ACTIVITIES FOR COMPANIES
Our groups department offers advice on and management of the complementary programme of activities for your company meetings.

Due to the hotel's privileged location, the leisure programme offers a variety of possibilities for enjoying the Empordà on land and sea and in the air.

Depending on your work schedule, we can organise:

From team working in the open air to beginners' golf courses, daytime and night-time "Moonlights" golf tournaments, boat excursions, snorkelling and scuba diving, horse riding, beach volleyball, guided cycling or walking excursions, balloon flights, quads, visits to mediaeval villages, museums, natural areas, casinos, vineyards, theme festivals, etc.
LANGUAGE COURSES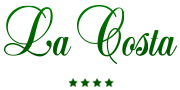 The Hotel La Costa is the centre in Catalonia of "O'Sullivans- The Language School" where in tranquil surroundings students can learn or improve their chosen language with native speaking teachers.

O'Sullivans – The Language School typically adapts its courses to its students' needs, so that they can put them to use efficiently and confidently in their work or social environment.

If you wish, you can combine your studies of your chosen language with the "language-sport course" option, where student and teacher enjoy a round of golf together while practising the language.

Más información a www.osullivanspro.com